This week I worked on setting up a piece of furniture for my creative space (more about that in an upcoming post). It's a piece that we got from a friend of a friend many years ago. It was going to be put to the curb and we rescued it. It's probably one of my favorites. We have many pieces in our home that we picked up curbside and gave new life to. So, in its former life, this one was an
Entertainment Center
(I think there will be many of those at the curb or second hand shops). We removed the top set of doors and cut back the shelf to open things up. The cast iron scrolls add a pretty detail to the corners. The bottom set of doors had these dated raised panels, so we removed them and replaced them with fabric and painted it in a light sagey green and cream. It's a great piece of furniture by Drexel Heritage that's perfect for my supplies.
Melissa at the
Inspired Room
has posted about finding beauty where you are right now. This week, I have accomplished a little piece of my goal,
My Creative Space
. It's where I find beauty each time I walk in this room. Even more when my little ones comment on how "beautiful it is in here mommy".
This post is also participating in Funky Junk's Saturday Night Special. Click below to check it out!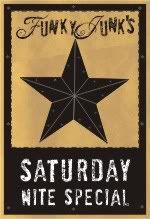 Also, visit this new site I just found called
Reinvented
for more great projects!