This is where she has them.
Paris Dreams sign- I painted - more coming to my shop soon!
I think this has been the fastest room makeover we have done, ever. It took just 2 weeks and a lot of focus to just finish to the end. Although I have to be honest, I do still have one more pillow to finish and the one that you see on the bed is almost complete. Just a couple of more ruffles to make and sew. Boy are those time consuming!! I also want to embellish the plain white lampshade on the nightstand - maybe this weekend.
So let's start with some before shots:
We changed the color of the pink on the walls. It was a mauvey rose before. Now it's Pink Destiny by Valspar. The bed was a goldish brown before and we painted it black. I was hesitant about that but loving it now.
As you can see, the dressers (which were mine from my childhood) did not have any knobs. Just never got around to that after I had painted a scroll design and antiqued the fronts of the drawers.
The dressers are now painted in a semi-gloss white and I've spray painted the cast iron handles (which I used to carry in my shop) black.
The desk in my daughter's room was mostly just covered in clothes. She didn't like to sit there to do homework and prefers a comfy chair.
The new chair...
And the new corner...
I think this part was the most fun. We made the magnet board,
bulletin board
and chalkboard.
"Fait avec amour"
Made with love
More info on those to come in a future post.
The clipboard was purchase here at
Pale Pink and Roses
.
The nightstand was moved next to the bed and the tall dresser was placed here:
The mirror was a gift and used to be cream - we sprayed it white...much better.
The Eiffel tower jewelry holder is from
TJ Maxx
. They have tons of Paris themed products.
The bedding was pretty and romantic...
and now it's bold and dramatic!! She loves it! We found it online at
Walmart
.
The accent table that was sitting in the basement is perfect here.
Damask Lamp -
Target
Paris cup -
TJ Maxx
Hot Pink Frame -
Christmas Tree Shops
Some of the details:
I painted this sign for my daughter a few years ago and even though it's not a perfect match, she chose to keep it over her bed.
A beautiful ballerina clock - a gift from grandma purchased at
Lavender Fields
in Port Jefferson.
This gorgeous painting is by my husband's grandmother. Wish I could paint like her!! Isn't she amazing?
We didn't touch my cloud paintings on the ceiling. Perfect for Paris day dreams.
The rod is another steal at $4.99 from
Christmas Tree Shops
. And the valance is made from 2 63" panels purchased from Marburn Curtains.
Storage boxes from
TJ Maxx
. Of course!!
The Degas prints were a gift from many years ago. Finally framed!
This glittery Paris ornament is a favorite find from a store in NYC.
This huge bolster was plain white canvas and just needed something. Aren't these ruffles cute?
Cute little storage over at the message center for push pins, magnets and chalk.
The trophy shelf. Letter T from Christmas Tree Shops and the shelf, you guessed it, TJ Maxx.
Sleeping under the Eiffel Tower! Also from the Christmas Tree Shops - would you believe only $9.99?
Here is a closeup of the new moulding my husband installed. Very simple, love it!
And here she is, looking very happy in her new room!!
Linking this post to: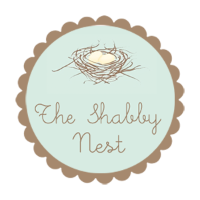 And click here for Layla's party "A Few of My Favorite Room - Re-do's 2010"